All of the services offered save you money, save time or simply add the necessary accessories to your business.

FINANCING & INSURANCE
Renault Trucks Financial Services offers tailor-made financing and insurance solutions directly from your distributor. We know your sector of activity and all its specificities, so we have reliable and adapted services for customers of used vehicles. Moreover, with a Renault Trucks financial solution, your borrowing capacity and your cash flow are preserved. Find out now our off-balance sheet or off-balance sheet financing offers, as well as insurance offers in the service section of the Renault Trucks website of your country.
A MANUFACTURER WARRANTY UP TO 24 MONTHS!
At the end of the checks and inspections, we are able to guarantee a wide range of used vehicles on the whole drivetrain: the engine, the gearbox or the axles which are the vital organs of your second hand truck.
This warranty is recognized by all Renault Trucks dealers. Find all your benefits and other associated services in the Renault Trucks Selection offer


BREAKDOWN AND TOWING ASSISTANCE
For even more peace of mind, we associate with the Renault Trucks Selection warranty, breakdown and towing assistance regardless the cause of the breakdown (except accident - see your contract for details) to allow you to be towed to the nearest Renault Trucks distributor and limit your downtime.
This assistance, managed directly by the manufacturer, includes tractor and trailer, and costs are covered up to 3,500 Euros in Europe (see contract for detailed list of covered areas).
This warranty is only available with the Renault Trucks Selection offer.
CUSTOMIZE YOUR VEHICLE WITH OUR WIDE RANGE OF ACCESSORIES
When you choose Renault Trucks, you are buying more than just a truck. By equipping your vehicle with accessories, you optimize its profitability, its robustness, you improve its comfort and its protection.
A wide range of accessories is available: Roof racks, Rims, Parking air conditioners, Blow guns, ... and much more in our catalog!
Two ways to choose your accessories:
1. Get closer to your nearest authorized dealer
2. Use the Renault Trucks e-catalog accessories: Are you looking for a specific accessory? Go to the summary on page 2 and head to the desired category.


EXPORT
Renault Trucks is committed to respecting the environment to provide vehicles that meet at least the constraints of local regulations. The upgrading of our second-hand vehicles was developed by our engineers while securing long-term vehicle performance. A vehicle with a suitable drivetrain avoids the risk of downtime, secures the good quality after-sales support and the valuation of your investment.
You export your vehicle or you want to buy one of our trucks for export? For more information, please contact us.
 
INCREASE YOUR PROFITABILITY WITH OPTIFLEET
Renault Trucks offers Optifleet, the fleet management solution to help you on a daily basis and reduce your operating costs. You are permanently connected via the web portal www.optifleet.net.
By tracking vehicles and drivers, you can drive your business in real time and control your main expenses by receiving Eco Score reports automatically by e-mail. Optifleet is available without any additional investment on the used T, C and K range, and operates on a non-binding or pre-payment basis: for more information http://www.renault-trucks.co.uk/optifleet/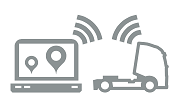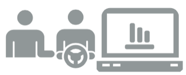 OPTIFUEL SOLUTIONS
In order to optimize your budget by saving fuel, we propose you to enter a fuel economy approach whatever the age of your vehicle. Indeed, we offer you simple and effective solutions for your used trucks: Optifuel Infomax which is compatible with all generations of vehicles since Euro 2 allows you to analyze in detail your driving style.
Optifuel Training is an efficient and profitable driving training since the first kilometers.
For more information, please visit  http://optifuel.renault-trucks.com/en/